Judy Who?
Judy Chicago is an artist, author, feminist, educator, and intellectual, whose career now spans five decades. Her influence both within and beyond the art community is made mainstream by her inclusion in standard art and education publications throughout the world.
Over the years since Judy's emergence, her art has been frequently exhibited in the United States as well as in Canada, Europe, Asia, Australia, and New Zealand. In addition, a number of the books she has authored have been published in foreign editions, bringing her art and philosophy to readers worldwide.
Learn more about Judy Chicaco »
Baton Rouge Native, Marcia Jane Arnold, Meets Judy Chicago
In 1995 I took a workshop with Judy Chicago, by answering an advertisement in Art In America. It was held at the College of Santa Fe in that city. I decided to drive to New Mexico by myself in our van. I took a cell phone, one of those clunky, big, boxy cell phones and my van.
I drove across Texas, stopped to pick wild flowers, picked up stones, cactus skeletons. I was apprehensive but felt a sense of freedom. I wanted to stop and pick flowers, if I chose. I did not want to be bound by a time schedule. I even stayed at state park lodges  to save money.
While attending the workshop, Judy told me about a month long internship that Through the Flower, her supporting foundation, was sponsoring in 1996. I jumped at the chance to return the next summer. My qualifications was that I had a degee in painting and drawing.
Tasks during my internship
My Internship was held in Albuquerque, where Judy lived.  I spent most of my time doing museum condition reports and packing the triangle quilts. These were a group of quilts made by individuals as a response the Dinner Party. These triangle quilts were  to be shipped to Armand Hammer Museum of Art in Los Angeles. to be shown in conjunction of the new exhibition of The Dinner Party. Condition reports involved writing condition after inspection of each quilt, then packing them for shipment.
The Dinner Party
The Dinner Party © Judy Chicago, 1979, Mixed media, 42' x 48' x 3', Elizabeth A. Sackler Center for Feminist Art, Collection of the Brooklyn Museum, Photo © Donald Woodman
Reason for The Dinner Party
This major installation was made as a collaborative project with volunteers–women and men. Judy designed it to illustrate the lack of female imagery and history in hundreds of years. In fact, this idea was so controversial at the time, that Congress reacted by holding special meetings to declare that this installation and its vulva-like ceramic dinner plates displayed were pornography and vulgar.
Immediate criticism(1980–1981)
The Dinner Party prompted many varied opinions. Feminist critic Lucy Lippard stated, "My own initial experience was strongly emotional… The longer I spent with the piece, the more I became addicted to its intricate detail and hidden meanings", and defended the work as an excellent example of the feminist effort. These reactions are echoed by other critics, and the work was glorified by many.
Just as adamant, however, were the immediate criticisms of the work. Hilton Kramer, for example, argued, "The Dinner Party reiterates its theme with an insistence and vulgarity more appropriate, perhaps, to an advertising campaign than to a work of art".
He called the work not only a kitsch object but also "crass and solemn and singleminded", "very bad art,… failed art,… art so mired in the pieties of a cause that it quite fails to acquire any independent artistic life of its own".
In defense of this, defenders of this piece of art work, noted that throughout history that the male figure was used including genitalia, such as Michelangelo's David, and even the Washington Monument. In 1990, The Dinner Party was considered for permanent housing at the University of the District of Columbia.
More information on The Dinner Party controversy »
Tradition of accepted male genitalia imagery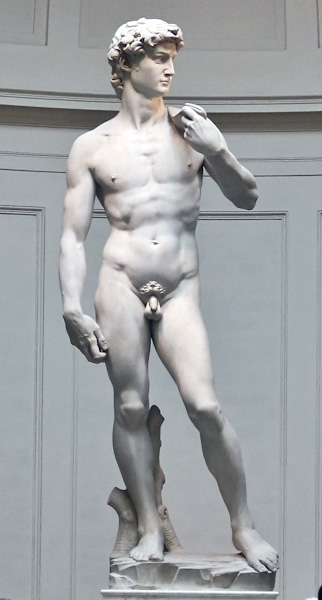 The rejection of a donation to a Washington university in D.C.
It was part of a plan to bring in revenue for the school, as it had proved to be very successful. The work was to be donated as a gift to the school, and it was to join an expanding collection of African-American art, including a large group of paintings by Washington abstractionist Sam Gilliam and works by Elizabeth Catlett, Romare Bearden, Alma Thomas, Hale Woodruff, Jacob Lawrence and Lois Mailou Jones, among others.
These – along with works by a group of local white Color Field painters and some white UDC faculty members also in the university collections – were to become the core of what was presented in early 1990 as a ground-breaking multicultural art center, a hopeful coalition between artists of color, feminists and other artists depicting the struggle for freedom and human equality.
Eventually, the plans were cancelled owing to threats to affect the school's working budget.
What an Honor
What an honor to partipate in preparing the needle work from women from all over the world. I was a Southern homemaker turned professional artist, meeting and working with a savvy International artist.
Judy was impressed with my genuineness, my being a Southern good girl, who was a recipient of the benefits of the Feminist Revolution. She was glad to hear that I was able to have it all…home, family, and personal voice through my art. I was as gentle yet assertive, as Judy was direct, aggressive, and determined still as a warrior…..a true warrior. She helped the world that all women have history.